Categories
Truecrypt 5.0a
Software system for establishing and maintaining an on-the-fly-encrypted drive
Entwickler:
TrueCrypt Foundation
more software by author →
Preis:
0.00
Lizenz:
Open Source
Dateigröße:
1K
Language:
OS:
Windows XP/Vista

(?)

Rating:

0

/5 (0 votes)
enlarge screenshot
TrueCrypt is a software system for establishing and maintaining an on-the-fly-encrypted drive. On-the-fly encryption means that data are automatically encrypted or decrypted right before they are loaded or saved, without any user intervention. No data stored on an encrypted volume can be read (decrypted) without using the correct password or correct encryption key. The entire file system is encrypted (file names, contents of every file).
tags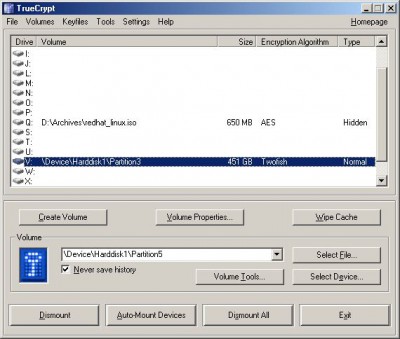 Download Truecrypt 5.0a

Download Truecrypt
Ähnliche Software

RightTime 1.00 by ITSTH
With RightTime you can make all files in a directory tree on hour older/younger.

encrypted::Mail 2.0 by Data Fortress
Ermöglicht das Versenden von 512-Bit-starken asymmetrisch verschlüsselten E-Mails unabhängig vom E-Mail-Client; der Absender kann zur erweiterten Sicherheit eine Pass-Phrase verwenden; der Empfänger benötigt zum Entschlüsseln das selbe Programm
Andere Software dieser Kategorie

Security Config Wizard by Falk Schmal
Wer es leid ist, die Sicherheitseinstellungen durch fehleranfällige Änderungen in der Registry anzupassen, verwendet den Security Config Wizard: Die Freeware optimiert über gut strukturierte Dialogseiten die Sicherheitsoptionen in der Registry.

Web Confidential by Alco Blom
Passwörter, wohin man sieht: Ähnlich wie Apples Schlüsselbund sammelt Web Confidential den Wust an geheimen Zugangsschlüsseln an einer zentralen Stelle.