Catégories
Actual Window Minimizer 8.13.3
10 applications don't fit the taskbar. Use Minimize to... ANYWHERE!
Auteur:
Actual Tools
more software by author →
Prix:
19.95 buy →
Licence:
Shareware
Taille:
3611K
Langue:
Système:
Windows 98/XP/Vista

(?)

Note:

0

/5 (0 votes)
Agrandir
Do you put your papers, books, pens and clips into one big heap on the desk? No? Then, why should you minimize all applications to the taskbar only? You can better organize your desktop space and eliminate window clutter in the taskbar by using our Minimize-to-Tray and Minimize-to-Screen Edge controls. In addition to windows, they can effectively minimize your errors, strain and stress. Click here to learn more!
tags

minimize
tray
screen
edge
windows
application
program
desktop
taskbaricon
systemclock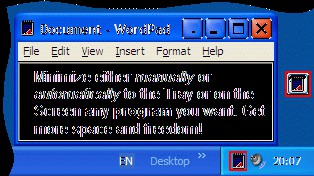 Télécharger Actual Window Minimizer 8.13.3

Télécharger Actual Window Minimizer
Purchase:

Purchase Actual Window Minimizer
Similar logiciels
Autre logiciels