Categories
ClamWin 0.92
ClamWin Antivirus is antivirus software for Windows.
Entwickler:
ClamWin Software
more software by author →
Preis:
0.00
Lizenz:
Freeware
Dateigröße:
15467K
Language:
OS:
Windows 98/XP/Vista

(?)

Rating:

0

/5 (0 votes)
enlarge screenshot
ClamWin is an Antivirus tool that comes with an easy installer and is open source code at no cost. It features: Scanning Scheduler; Automatic Virus Database Updates. ClamAV team updates Virus Databases on a regular basis and almost immediately after a new virus/variant is out; Standalone Virus Scanner; Context Menu Integration to Windows Explorer; Addin to Outlook. Please note that ClamWin does not include an on-access real-time scanner.
tags

trojan scanner
scan
virus
virus scanner
antivi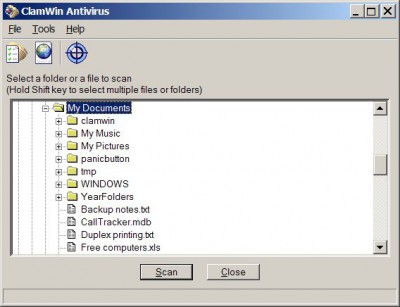 Download ClamWin 0.92

Download ClamWin
Ähnliche Software

Active Virus Shield by AOL
AOL verteilt gegen Angabe der E-Mail-Adresse den Virenscanner Active Virus Shield; Updates für ein Jahr sind inklusive.

AVG Anti-Virus Free 7.5.412 by Grisoft
Virenscanner mit Resident Shield, Personal-E-Mail-Scanner, On-Demand-Test, automatischen Updates der Virus-Datenbank und der Programmdateien; erweiterte Pro-Version für 27 EUR erhältlich

CA Anti-Virus 2007 8.1 by Avanquest Deutschland
Macht Viren und andere Gefahren unschädlichUnter dem Namen CA Anti-Virus schützt die früher eTrust EZ Antivirus bezeichnete Sicherheitssoftware PCs vor Viren und anderen digitalen Gefahren.
Andere Software dieser Kategorie

Security Config Wizard by Falk Schmal
Wer es leid ist, die Sicherheitseinstellungen durch fehleranfällige Änderungen in der Registry anzupassen, verwendet den Security Config Wizard: Die Freeware optimiert über gut strukturierte Dialogseiten die Sicherheitsoptionen in der Registry.

Web Confidential by Alco Blom
Passwörter, wohin man sieht: Ähnlich wie Apples Schlüsselbund sammelt Web Confidential den Wust an geheimen Zugangsschlüsseln an einer zentralen Stelle.