Categories
Web Site Express 2.7.1.000
Advanced File System Explorer. File info, file find, file report, file preview.
Entwickler:
NorthStar Solutions
more software by author →
Preis:
12.98 buy →
Lizenz:
Shareware
Dateigröße:
483K
Language:
OS:
Windows Vista

(?)

Rating:

0

/5 (0 votes)
enlarge screenshot
XYplorer is an Advanced File System Explorer targeting everybody who is looking for a real alternative to the Windows Explorer. Features tabbed browsing, best file find you can get, reporting features, and instant preview of font, icon, image, audio, video files, hex view, binary string search, browse-history, go-to, copy-to & move-to favorites, logged backup, time-stamping, copy directory tree, and much more. Requires GDI+ for OS older than XP.
tags

dateimanager
dateisuche
vorschau
icons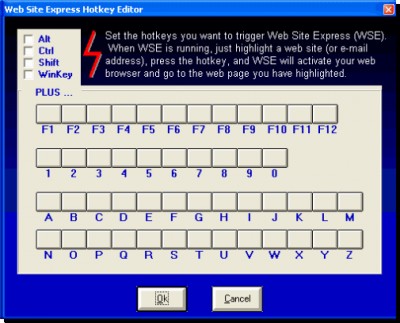 Download Web Site Express 2.7.1.000

Download Web Site Express
Purchase:

Purchase Web Site Express
Ähnliche Software

RightTime 1.00 by ITSTH
With RightTime you can make all files in a directory tree on hour older/younger.
Andere Software dieser Kategorie

3D-FTP 9.06 by SiteDesigner Technologies, Inc.
Das pfiffige 3D-FTP aus Finnland übernimmt das Konzept der Software-`Skins´, das sich bei diversen Multimedia-Playern (WinAmp, Yamp) und Linux-Oberflächen (Enlightenment) eingebürgert hat.

Direct FTP 6.2 by CoffeeCup Software
Besonders Web-Autoren werden sich über CoffeeCup Direct FTP freuen: Dieser FTP-Client integriert einen textbasierenden HTML-Editor mit Syntax-Hervorhebung.

RascalPro 3.15 by Basta Computing, Inc.
Auch das vielseitige Werkzeug Rascal Pro dient zur Automatisierung der Internet-Kommunikation: Es wählt den Rechner in ein Netzwerk ein und hält die Verbindung mit regelmäßigen Pings aufrecht.

Web Washer Classic by webwasher.com AG
Filter zwischen dem Browser und dem Internet können die Übertragung bestimmter Inhalte wie Werbebanner und Hintergrundbilder verhindern und damit das Surfen beschleunigen.

The Bat! 5.3.8 by RIT Research Labs
Das E-Mail-Programm The Bat! macht es einfach, viele Vorgänge der E-Mail-Bearbeitung über Makros und Templates zu automatisieren.