Categories
RFFlow Professional Flowcharting 5.02
Advanced File System Explorer. File info, file find, file report, file preview.
Entwickler:
RFF Electronics
more software by author →
Preis:
49.00 buy →
Lizenz:
Shareware
Dateigröße:
2862K
Language:
OS:
Windows Vista

(?)

Rating:

0

/5 (0 votes)
enlarge screenshot
XYplorer is an Advanced File System Explorer targeting everybody who is looking for a real alternative to the Windows Explorer. Features tabbed browsing, best file find you can get, reporting features, and instant preview of font, icon, image, audio, video files, hex view, binary string search, browse-history, go-to, copy-to & move-to favorites, logged backup, time-stamping, copy directory tree, and much more. Requires GDI+ for OS older than XP.
tags

dateimanager
dateisuche
vorschau
icons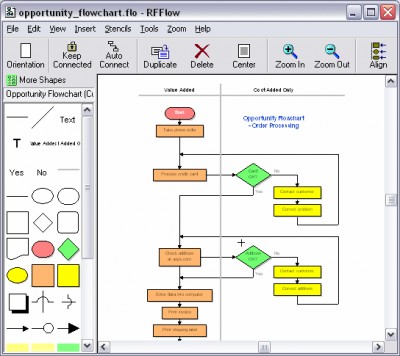 Download RFFlow Professional Flowcharting 5.02

Download RFFlow Professional Flowcharting
Purchase:

Purchase RFFlow Professional Flowcharting
Ähnliche Software

RightTime 1.00 by ITSTH
With RightTime you can make all files in a directory tree on hour older/younger.
Andere Software dieser Kategorie
HyperSnap 8.12.02 by Hyperionics
Das in der aktuellen Version 35 US-Dollar teure Screenshot-Utility HyperSnap liegt auf der Heft-CD in 18/05 als kostenlose Vollversion vor.

GraphicConverter 5.9.5 by Lemke Software GmbH
Die Vollversion GraphicConverter von Lemke Software macht ihrem Namen alle Ehre: Sie importiert 175 Dateitypen, darunter RAW-Formate von Canon, Kodak, Nikon, Pentax und anderen Herstellern, und exportiert nicht weniger als 75 Formate.

Screen Catcher by Jon Gotow
Bildschirmabzüge braucht man immer wieder - und sei es nur, um die Unzulänglichkeiten irgendeiner Software beim Programmlauf dokumentieren und dem Entwickler anschließend den Nachweis vorlegen zu können.

Fonty 1.0 by ceytec software - Adrian Hardt
Die Schriftenverwaltung Fonty sortiert die im System installierten oder auch nur archivierten Fonts nach sinnvollen Kriterien, (de)installiert oder druckt sie bei Bedarf aus.